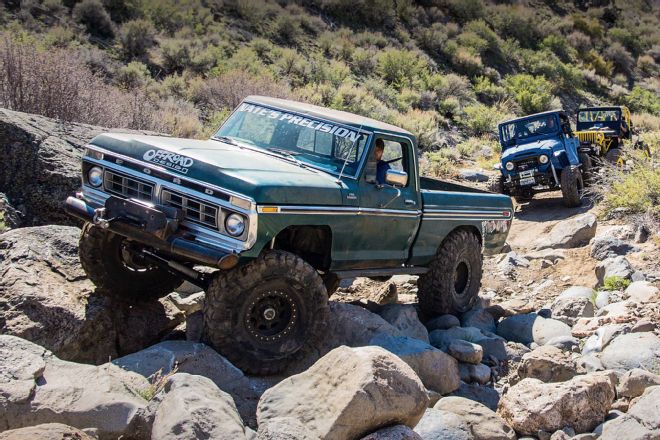 By Harry Wagner Featured in JP Magazine on June 1, 2011
A year has passed since we flogged our F-150 at the Cheap Truck Challenge. Since then it has spent more time at Nate's Precision getting fitted with upgrades than it has on the trail. You have seen some of these upgrades in past tech stories, like our Offroad Design Doubler (June '14), the rear Sterling axle with Sierra Gears and a Detroit Locker (Jan. '14), a 460 built by L.A. Speed (page 40 this issue) … basically all of the parts that we needed to support the huge 41-inch Pit Bull Rockers that we added last year for the Cheap Truck Challenge.
"Nate Jensen and Bernie Dettrich brought our vision to life"
Our goal was to turn Raymond into a hardcore wheeler with the look and feel of an old farm truck. The crew at Nate's Precision has created plenty of impressive vehicles that we have featured on these pages in the past, so we knew that they had the chops to turn Raymond into a capable wheeler. Nate Jensen and Bernie Dettrich at Nate's Precision brought our vision to life with pipe bumpers and faded paint hiding 1-ton running gear and a custom suspension. Below are the top 10 upgrades than can be applied to any rig to turn it into a capable 4x4 able to run big tires reliably.
Thank you for visiting Nate's Precision LLC in Sparks Nevada where we specialize in rock climbing customization and complete automotive repair - maintenance solutions.  Our master technicians can take your vision and make it a reality providing a solution you can rely on everyday and in every situation.  Schedule your appointment today (775) 358 - 2555 or schedule an appointment online.