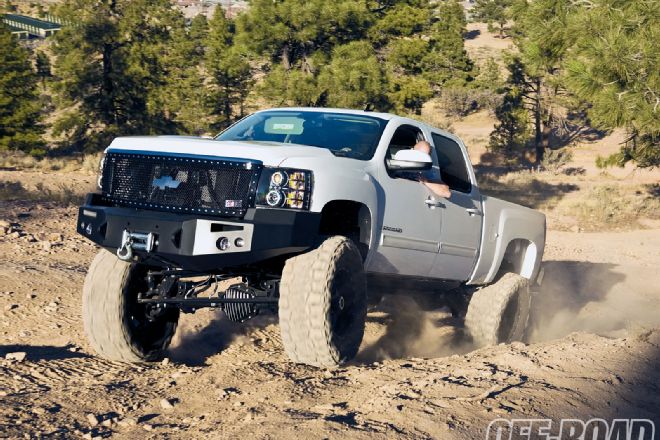 By Harry Wagner Featured in JP Magazine on March 1, 2010
In Star Wars, Storm Troopers were the goose-stepping Imperial soldiers dressed in all white. If there were real, they would probably choose to drive something like Jack Stanko's '09 Chevy Silverado 2500.  This '09 Silverado 2500 is complete in Storm Trooper trim with white paint and black accessories overhanging 40-inch Mud Grapplers Fitting that much tire on any truck can be a challenge, so Jack turned to the professionals that had helped bring so many of his previous creations to life. These include Off Road Unlimited, Dynatrac, and Nate's Precision.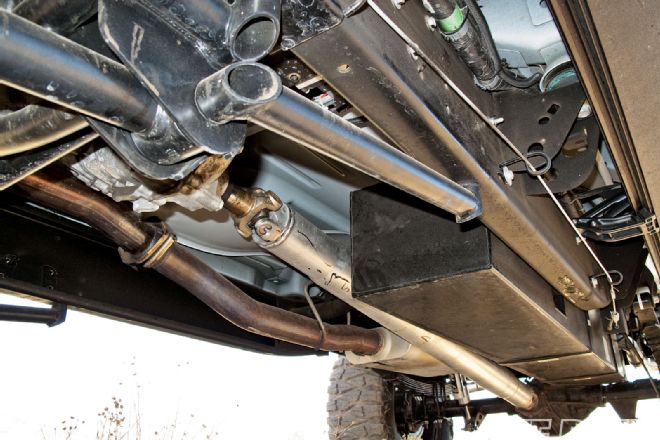 Off Road Unlimited was one of the originators of the Chevy solid-axle swap kits, so the choice to use their components on this project was an easy one. Nate's Precision scrapped the stock IFS components and replaced them with the ORU four link kit. This kit utilizes 2.5 King coilovers and King hydraulic bumpstops for excellent performance in all terrains and speeds. The coilovers are complimented by a four link geometry that uses urethane bushings for a quiet ride and long life.
Using a suspension like this with a junkyard axle wouldn't make any sense, so Jack had Nate's Precision sling a Dynatrac Dana 60 under the front of the Silverado. It still retains the factory ABS and stability control that come standard on new pickups. The factory 14 Bolt 10.5-inch rear axle was geared to match and a Detroit Locker was added for full time traction. "My last truck was a diesel, but no one made a locker for the larger 11.5-inch axle," Jack commented. "The rear locker makes a world of difference on the trail."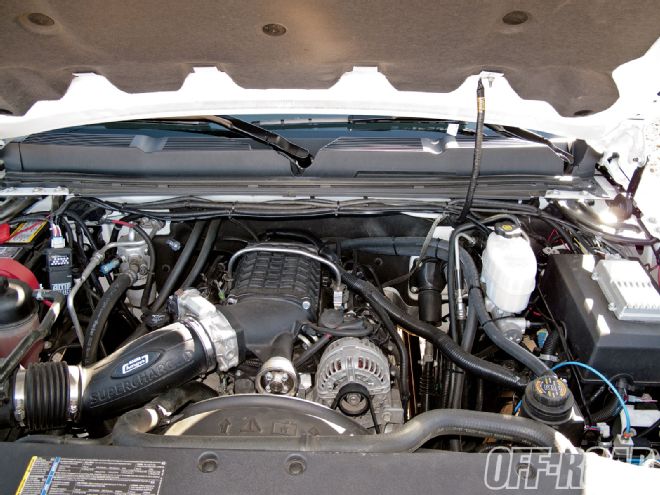 The LQ9 engine is part of Chevy's potent Gen III powerplants. These engines make 360 hp and 380 lb-ft of torque. They are incredibly receptive to modifications too, so the power only goes up from there. The Magnacharger supercharger replaces the factory intake manifold and comes complete with all necessary fuel system upgrades, electronics, and even an integrated water-to-air intercooler to keep the intake charge cool and dense. The system ups power to approximately 475 hp and 500 lb-ft of torque with most of the power coming right off idle.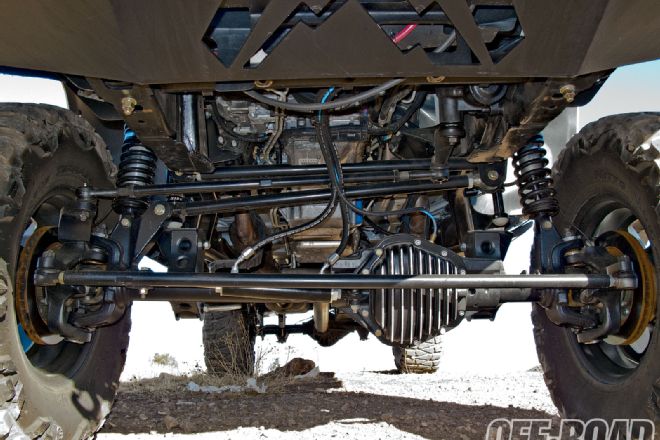 Thank you for visiting Nate's Precision LLC in Sparks Nevada where we specialize in rock climbing customization and complete automotive repair - maintenance solutions.  Our master technicians can take your vision and make it a reality providing a solution you can rely on everyday and in every situation.  Schedule your appointment today (775) 358 - 2555 or schedule an appointment online.